30 Oct

Olive
Olive
Different kinds of olives
Olive can be a very delicious choice to eat with food. These days, a wide variety of them and their combinations can be found. To choose the right one according to your taste, the first step is to know the different types of them.
Green olives are one type that are divided into many kinds too. Halkidiki is one of the traditional Greek ones. This kind of olive is egg-like, fleshy, and juicy and has a spicy and peppery taste. Manzanilla is the next kind which is mostly found in Spain and is suitable for those who love the combination of spicy and salty flavors. Other types of green ones are Sicilian and Pichulin.
On the other hand, we have black ones which are divided into Kalamata, Ponentine, Gaeta, Lugano, and Alphonsus.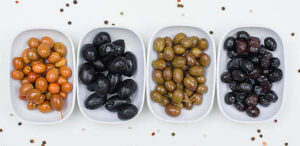 The Products
Code
Caliber
Weight
Box/Piece
Palet/Box
caliber
1
Black olive in a tin
1120
180-230
10 Kg
1
75
180-230
2
Black olive in a tin
2121
201-260
10 Kg
1
75
200-260
3
Black olive in a tin
2122
231-290
10 Kg
1
75
230-290
4
Black olive in a tin
2123
261-320
10 Kg
1
75
260-320
5
Black olive in a tin
2124
291-350
10 Kg
1
75
290-350
6
Color turned olive in a tin
2125
10 Kg
1
75
320-380
7
Black olive in a tin
1126
all caliber
13 Kg
1
60
350-410
8
Black olive in a tin
1121
4 Kg
4
50
410-460
9
Black olive in a tin
1122
4 Kg
4
60
10
Black olive in a tin
1128
800 G
6
96
11
Black olive in a plastic box
2126
230-290
1500 G
6
90
12
Black olive in a plastic box
2127
201-260
1500 G
6
90
13
Black olive in a plastic box
2128
230-290
900 G
6
90
14
Black olive in a plastic box
2129
201-260
900 G
6
90
15
Black olive in a plastic box
1132
230-290
1000 G
6
90
16
Black olive in a plastic box
1133
290-350
1000 G
6
90
17
Black olive in a plastic box
1134
201-260
1000 G
6
90
18
Green olive with redpepper in a plastic box
1140
700 G
6
90
19
Green olive in a plastic box
1143
700 G
6
90
20
black olive in a vacum package
1123
800 G
16
48
21
black olive in a vacum package
1124
1000 G
12
48
22
black olive in a vacum package
1137
700 G
16
48
23
black olive in a vacum package
1138
500 G
24
48
24
Green olive with redpepper in a tin
1139
all caliber
10 KG
1
60
25
Green olive in a tin
1141
10 KG
1
60
26
Green olive in a tin
1142
10 KG
1
60
27
Green olive in a tin
1144
10 KG
1
60
28
Grilled olive in a glass jar
1145
320 G
8
160
29
Grilled olive in a tin
1146
12 KG
1
60
30
Grilled olive in a tin
1147
9 KG
1
75
31
Sliced black olive in a tin
1148
8 KG
1
75
32
Sliced green olive in a tin
1149
8 KG
1
75
33
Black olive paste in a plastic box
1150
4 KG
4
60